Dealing with change is standard procedure for many firms. They hire employees while others leave.  Retailers introduce new products phase out old ones. There are booms, and there are busts. On top of all that, firms need to account for sales and use tax changes. Significant changes in rates, regulations, and product taxability often take effect July 1, which is the start of a new fiscal year in all but a few states. Online companies must also consider e commerce taxation.
States want to collect more tax revenue from remote sales
Perhaps the most notable trend of 2017 is states' push to obtain tax revenue from remote sales. This isn't new. States have been working to tax out-of-state sellers for years. However,  Quill Corp. v. North Dakota, 504 U.S. 298 (1992) hampered their efforts. It's the landmark Supreme Court ruling that a state can only tax firms physically located within its borders.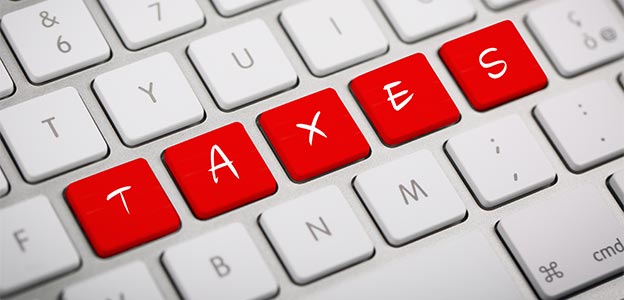 In recent years, states have found creative ways to work around the physical presence precedent upheld by Quill. They're taxing firms with ties to in-state affiliates and those that generate a certain amount of business through links on in state websites. Increasingly, they're also taxing companies with a certain amount of economic activity in the state. Unfortunately for states in need of additional sales tax revenue, these affiliate, click through, and economic nexus laws are difficult for states to enforce.
Many states are looking to different and more aggressive approaches. Two methods in particular have been gaining steam this year. The first is use tax notification and reporting requirements. The second is taxes on online marketplaces such as Amazon and eBay.
Use tax notification and reporting rules
CO paved the way for states to impose use tax notification and reporting requirements on non-collecting out of state sellers. After spending years stuck in court, its takes effect July 1 — the same date a similar policy starts in Puerto Rico. VT recently passed one and made it effective retroactively, on January 1, 2017. Other states, including PA and TX, are considering use tax notification and reporting measures.
Sending annual reports of consumer purchase activity to consumers and state tax authorities is more work for remote retailers, and CO and the other states could be using their policies as a back door approach to getting out of state companies to register and collect. Even if companies choose to not take that route, use tax reporting should help states increase their use tax collections.
Taxing online marketplaces: E Commerce Taxation
MN is the first state to enact a tax on marketplace providers. HF 1 will take effect at the earlier of July 1, 2019, or when the Supreme Court modifies its decision in Quill — though the effective date could change if Congress passes legislation allowing states to tax remote sales.
NC, TX, WA, and a number of other states are also interested in e commerce taxation, and their efforts are likely to continue or resume as 2017 wanes. But not all agree it's a good idea: NY lawmakers blocked Governor Andrew Cuomo's attempt to tax them earlier this year.
Congress could tackle online sales tax
Tax reform and repealing or revamping the Affordable Care Act has federal lawmakers busy. Allowing states to tax remote sales transactions, or preventing them from doing so, is low on their list of priorities. However, we've learned to expect the unexpected from Washington. A federal solution to the problem of untaxed remote sales should not be entirely ruled out.
Legislators have introduced two bills that would authorize states to tax certain interstate sales. They are the Marketplace Fairness Act of 2017 and also the Remote Transactions Parity Act of 2017.
Lastly, a bill that would codify the physical presence standard set by Quill and further limit states' ability to tax interstate sales has also been introduced. It's called the No Representation Without Representation Act of 2017.
Other sales tax changes
Many of the trends seen at the start of the year are continuing as 2017 progresses. FL has enacted a tampon tax exemption, Seattle a soda tax. TN is lowering the state sales tax rate on food and food ingredients. There are calls to add a statewide sales tax in AK. Although he failed to achieve it this session, Governor Jim Justice has been pushing to raise the state sales tax rate in WV. The taxation of services — including online music and movie streaming — remains a hot and hotly contested topic. And, as always, a plethora of local sales tax rate changes take effect at the start of each new quarter.
Don't let the dog days of summer lull you into complacency. There's a lot going on in the world of sales tax right now. Staying on top of these and other changes will allow you to prepare for them. Also, download Avalara's 2017 Sales Tax Changes Mid-Year Update to learn more.
Also,  for more info on  how E Commerce Taxation will affect your online firm, contact Web 2 Market today.